Create a Vendor Account
Signing up with ClubPay is quick and easy; there's no cost and no obligation.
Welcome to ClubPay; our quick and easy onboarding process should take around 15 minutes to complete and will guide you through the information we require to get you up and running.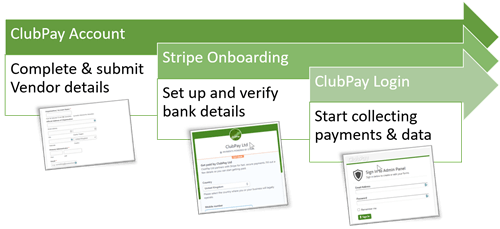 Complete and submit the form below; we'll pass you over to our payment provider to verify the identity of your organisation and protect your customers then you'll be passed back to our site ready to login and get started.
We are here to provide help and support whenever you need it. There's no cost for that either.

When you are ready, you can start selling memberships, merchandise, courses, events...you name it. You pay nothing until you make some sales; we deduct a small percentage to cover payment processing costs and admin fees, then send your revenue to your organisation's bank account.
IMPORTANT - PLEASE READ: Data Opt-In
We are required to obtain positive consent that Vendors are content for us to store and process their data; in practice, we cannot realistically deliver our services without that consent.
You are free to withdraw consent and stop using ClubPay at any time without penalty - simply email us using the Contact Us form on the About -> Contact Menu above
You have access to, and control over your data via your Admin Portal
We will keep your details safe and secure
We do not ever, and will not ever sell or share Vendor details with third parties (except where compelled by law)
We will only contact you with important information or updates of an operational nature
We therefore request that you tick the box on the form requesting Opt-In. By doing so, you are also confirming that you have reviewed and agree to the Data Processing Agreement set out in our Terms & Conditions.